Company Information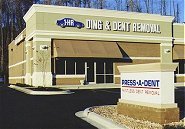 PRESS · A · DENT exclusively trains and equips its own craftsmen. Each craftsman has received hundreds of hours of supervised, one-on-one training on a full range of popular domestic and imported vehicles. Before working on a car, every craftsman must be certified for commercial work by PRESS · A · DENT's national training center.

We're Different - We don't sell franchises, tools or training. We help ambitious people develop their own paintless dent removal business. PRESS · A · DENT offers extensive and personalized paid training. After graduation, PRESS · A · DENT licenses its process to trained independent contractors (i.e. Craftsmen) for use in the operation of their own business in their home area. Our base commission structure is the best we know of and includes start-up bonuses that initially remit 95% of revenue directly to our Craftsmen. The bottom line is that we're willing to make an investment in you and we don't make a dime until you start making money for yourself first. Click here to learn more about our program.

Best Quality and Capabilities - PRESS · A · DENT is a local business with a national affiliation. This assures customers of the most up-to-date developments in the paintless dent removal field and enhances the range of dent types, locations and sizes we can repair. We also use the most direct methods of repair and proven finishing techniques. This diminishes any secondary evidence of repair, minimizes the risk of damage to the car during the process and ensures a high-quality result. In fact, we have so much confidence in our range of capabilities that we guarantee if we can't do the job, no competitor can either!

Competitive Pricing - Because of our low overhead and non-franchise structure, most of the repair charge goes directly to the craftsmen doing the work. As a result, we can take the extra time to do the full range of repairs you need at a competitive, per-panel charge.

Insured - PRESS · A · DENT carries over $1 million commercial vehicle liability insurance, an equal amount of general business liability coverage and, perhaps, most importantly, each vehicle we work on is insured against damage or loss under our garagekeepers policy.

Satisfaction Guaranteed - Each member of the PRESS · A · DENT team is committed to our no unhappy customers policy and we back this up, in writing, by unconditionally guaranteeing complete customer satisfaction.